Summertime.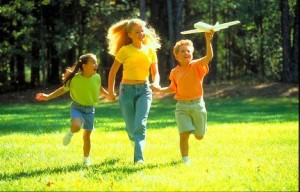 It's all about FUN family memories, together time, and bonding as a family, right? In my mind, that was what we were going to do.
It was a relatively FREE day. The first day of the week where we didn't have lessons of some kind or a babysitting job or work to clutter our day, so I could do something fun with the kids. I had big plans. I had to go to SLC anyway to pick up some prizes from radio stations, so why not take the kids and do something fun in the city while we were there?
The day began with one child asking, ne..BEGGING to go to lunch with her friend who had invited her. It was her late birthday present, after all. But child, I cajoled, we are going to do something "Fun". She chose her friend over us. Sigh. One down, that still left three of them, and we would do something fun. We could go to a museum, go to City Creek and shop, or maybe bowling. When the kids heard bowling, they cheered. Bowling it is, then. But FIRST, we need to do our jobs and clean up the house.
I was busy making 4 quiches. Why was I making quiche at 8:00 in the morning? Because I had to take a dinner in to a neighbor, but we already had plans for the evening, and if I'm going to do any baking on a 100 degree day, it will darn well be in the morning. So, there I am, making a mess in the kitchen at the SAME time I am asking them to clean up. Hypocritical? Yes, actually. But I was WORKING, and wanted them to be working, too.
A certain 9 year old decided he wasn't going to work and was going to be rude and obstinate with his mommy. It's kind of a pattern with that boy. Without going into the lovely proud parenting moment details, let's just say we got into it, and that boy is going to shape up or not have ANY fun this summer. At all. Ever. So, after an attitude adjustment and some work and an apology, we were nearly all ready to go.
Lunch date girl's friend cancelled, so NOW she wants to go with us, again. Fine.
Get snacks, look up where the bowling place is, get water, use the bathroom, and ….
grabbing my water bottle to get out the door, the lid is not screwed on properly and I drop the WHOLE thing on the floor. Small stubborn boy was actually the one who helped me clean it up.
We got out the door later than I had planned, but I still had high hopes.
It takes a while to go to three different radio stations. They are not centrally located, and with traffic downtown, before I knew it it was 1:00 and the kids were hungry. Drive through McDonald's solves that problem, but where in the world is this bowling place? Not everyone in the world has a GPS, so I was just trying to find it by the address, in an area of Sandy I don't often drive. Oops, turn around…AGAIN. Found it! We went inside, and we learned that
a-FREE with your pass does not mean free. It means it will cost you $3.75 per person to rent SHOES.
b-There is a wait of 20-30 minutes before we can bowl.
Looking at the clock, I realize that we don't have 20-30 minutes to wait because oldest daughter has to work at 3, and here it is already 1:15. And I promised them FUN! Hoping they don't revolt at the compromise, I suggest we get a redbox and ice cream cones and go home. Luckily, they went for that idea, with only a tiny bit of whining about not being able to bowl when I promised them TWO movies. So, instead of a FUN outing with the kids, I dragged them around in the car for hours, only to get a redbox and ice cream cones that we could have gotten 3 minutes from our house. Together time? Whatever.
All I know is that we are all hot, tired, and cranky. My attempts at fun fell flat, not to mention some unpleasantness over the doing of jobs.
So, now, one kid went to work (oh, let's not even discuss the drama we had there over shoes and the inability to find them), one kid went to play with friends, and two kids are lounging on the couch watching those movies, and I'm going to trudge out in the 100 degree heat and make sure my chickens have water and are not frying up in the sun.
We call this summer.