A week ago, our family met for a combined Family Home Evening with Ryan's parents and family at the Crandall Historical Printing Museum.
Our family has a special fondness for this museum, and we have been there several times. Ryan does have printing in his blood, having printers on both sides of his family. But never do I go there without learning something new. I am amazed at the ingenuity and brilliance of Guttenberg, and the tenacity it took to keep inventing, keep working until he got his printing press working.
Johannes Gutenberg was a German blacksmith, goldsmith, printer, and publisher who introduced modern book printing. His invention of mechanical movable type printing started the Printing Revolution and is widely regarded as the most important event of the modern period. In 1455 Gutenberg published his 42-line Bible, known as the Gutenberg Bible. About 180 were printed, most on paper and some on vellum. And there at the Crandall Print museum, there is a WORKING replica of the Gutenberg press, and you can learn all about it. Can you even imagine living in a day when there were no books? No scriptures except for the very wealthy, and even if the regular people could read (most of them couldn't), there would be no books to read. Because of Gutenberg, that all changed.
In another room of the museum, the museum's working replica Benjamin Franklin Press is currently printing the U.S. Constitution with metal type cast in molds made from the original punches that created the type used to produce the first print of the U.S. Constitution in 1787. You'll visit the Philadelphia print shop of Benjamin Franklin, where he and his partners were active in printing from 1728 to 1766. This English Common Press is an exact replica of his actual press now preserved in the Smithsonian Institution.
In the Benjamin Franklin Printing House Room, copies of Poor Richard's Almanac are printed on a replica of Benjamin Franklin's original English Common Press, and we learn how the printed word helped America win the civil war.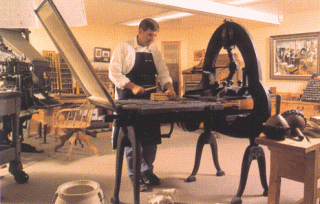 If you thought you needed to take your family to Palmyra to visit the Grandin Printing press, you can think again. Right there in Provo, you can visit the Grandin Room and hear the story and witness the printing of a 16-page section of the first edition Book of Mormon which was originally printed in Palmyra, New York, in the fall and winter of 1829-1830. Guest will see the setting of type and feel a replica of the original Acorn Hand Press. What a miracle that Grandin and his team were able to print those first 5000 copies of the Book of Mormon in seven months.
Lastly, you can see a working linotype, operated by Ryan's father, Larry Erickson. For 400 years since Johann Gutenberg, the type for both newspaper and book publishing had to be set by hand, one letter at a time. After printing, a page was distributed back into the type case ready to be used for the next page. The Linotype machine Ottmar Mergenthaler invented in 1886 was called by Thomas Edison the "Eighth wonder of the world."
Prior to the invention of the Linotype, composing the words for just one page of a daily newspaper required almost 34 man hours. The Linotype reduced that to about 3 hours. It's fascinating to watch and see that amazing printing machine, and to realize the magnitude of such an invention. Of course, my kids think it's so extremely cool that Grandpa can print them a little lead stamp with their name on it–backwards.
You don't have to have special connections to tour this amazing museum. You can just drive over to 275 East Center Street in Provo. Tours are available weekdays, 9am to 2pm. Group Tours are available at any time, any day, by appointment.
There is a $45 minimum charge for a group tour (includes 15 visitors). Additional visitors are $3 each.
It's a FABULOUS activity for Family Home Evening, for cub scout groups, or youth groups.
If you'd like an abbreviated or self guided tour, be sure to visit the museum for Colonial Days. Jul 2 – Jul 5.
Step back in time and celebrate the Fourth of July with the Founding Fathers (and Mothers) in downtown Provo at the Crandall Historical Printing Museum. Colonial Days is a FREE celebration for the whole family. From University Avenue to 400 East on Center Street, you will enter Provo's flag-and-bunting-lined Colonial Avenue. Where you will see men and women dressed in period clothing, and others roaming the streets and celebrating at Colonial Square outside the museum.
This museum is indeed a hidden treasure. One that should not be missed.