.
What a wonderful Thanksgiving! We enjoyed a big family gathering for the Colemans. Because there were about 70 people coming, we had to hold the dinner at my sister's church, and there was no shortage of yumminess going on. Larissa got to experience her first Thanksgiving, and hopefully she will remember the day fondly.


My family doesn't go in for all the formal dinner stuff, (we used paper plates) and while half of the cultural hall was set up with tables, the other half was used for basketball. People played before and after the meal. There were oreo turkeys and silly hats.

Perfect! We also got to chat and catch up with cousins I only see once or twice a year, and everyone had a great time.
After most people had sufficiently stuffed themselves, I took my large pot that had held green beans and started to scrape plates into the pot. What? Some of the food was HARDLY touched, (picky kids!) and it's good enough for my chickens, right? Those girls aren't picky–they eat bugs, for heaven's sake. I filled the WHOLE pot with the leavings, even though I got some strange looks and had to explain that I wasn't taking this home to feed my family, but to feed my CHICKENS. Otherwise it would just be going in the trash, right? I had to transfer that big pot of squished food to 3 gallon sized ziplock bags. I wouldn't want to feed it to them all at once. They are happy with the leftovers and don't complain at all when I bring it out to them.
The chickens are happy with their new fabulous house, by the way.

Here's an inside view.


They don't have a microwave and furniture in there, but I worried it might come to that.
Anyway, after that big family feast, we went over to Ryan's sister Julene's house, where most of Ryan's family was gathered. They were just finishing up dinner, so I'm glad we didn't get there any earlier. We tasted some of our favorites and Ryan got some of his mom's dressing, which is his favorite part of Thanksgiving. I'm not a big stuffing/dressing fan, so I don't bother with that, but he is convinced that it's the best dressing in the world, and it's not Thanksgiving until he has some. That right there is one reason that I won't even attempt to make dressing. It would never live up to his mom's, and I don't really like it, anyway. After the meal, we helped clear the table and divide up the leftovers. Even though we didn't eat at this party, we ended up taking a little bit of everything home. Ryan's mom divied up the leftover dressing (don't ever call it stuffing, by the way. "Stuffing is cooked inside the bird, dressing is NOT."), in baggies. Ryan's niece Camille just started eating the dressing. "This won't even make it home," she said. Like I said, this family really like's Mom's recipe. Julene and Italo's son, Elias, even called Grandma from California and asked how to make this dressing. He was hosting his first Thanksgiving and said hers was the best dressing he'd ever tasted. She gave him all the specifics and instructions. Not sure how it turned out, but good for him for trying it. We went home with the generous fixins for the perfect leftover sandwiches–turkey, dressing, mashed potatoes and gravy and sweet potatoes. I had made rolls and pumpkin pie for us, so we were set for at least one lunch.
We are so blessed to live so close to family! It was a wonderful day with people we love and we are so blessed.
For Black Friday, I did a little online shopping. Ryan was the one who went out, but that was just to the hardware store. He's been working on the basement this week since he had a couple of days off. Hooray! No, we are not ready for our 4-way inspection and I don't know when that will be, but every day there is some progress, and it's been nice to have Cole here for the weekend to help out. He doesn't really let me help much, but I did help move a tub into place and he let me paint a door frame yesterday. I really just try to stay out of the way.
In the afternoon on Friday, Ryan and I got cleaned up and went to Salt Lake to meet the family in the Salt Lake Temple. Ryan's niece Rachel is going on a mission. She's the first sister missionary in the family, and we are SO proud of her. She's going to The Dominican Republic. Because of the new mission age for girls, her younger sister Marissa is ALSO going on a mission, and just got her call this week to serve in Puerto Rico! How blessed this family will be to have two missionaries out at the same time! We enjoyed an endowment session there in the temple, then met for dinner at the Garden Restaurant. Because the lights on Temple Square turned on at 5:00, it was pretty crowded, but that just added to the spirit of Temple Square. We looked out over the temple and it was so beautiful!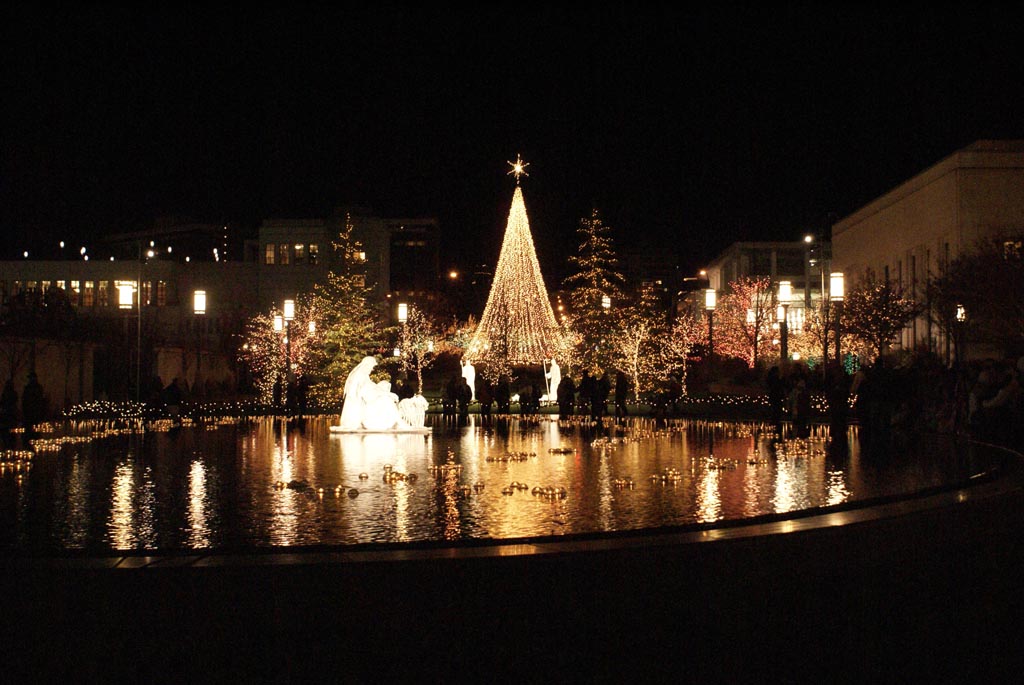 (Photo from RKSmith
Saturday was spent working about the house. I ran some errands and bought a few things. But while at Kohler's (our local grocery store), I realized that the 6 pk bottles of sprite were still on sale for $2 each. Thinking that these might make fun and easy neighbor gifts, I bought all I could find. When I showed up at the checkout, my cart was FULL of sprite, and a few other things for a salad. I got some weird looks (again), but I don't mind. A bargain is a bargain.
I was kind of bugging my husband to get the lights up while it was warm, but he decided to do that when he decides to do that. I had bought new LED lights after Christmas last year, and therefore we needed new clips. I bought some when I was at Lowe's this week, but not knowing if they were right, I only bought 3 boxes of 100 each. Well, they were right, but we needed more. I went back to Lowes while he got started. Of course Lowe's did not have any. I checked WalMart to see if they had such a clip….nada. Then I went to Home Depot. I found a similar clip, just not the same exact one. It will have to do! I bought five boxes of 75 each. Hopefully they will work, cause that was all I could find. I could always order more–if I had to.
The weekend was a nice break from school and work. It was really wonderful to be here with family and to have time to celebrate, count our blessings, and enjoy!